A mobile mechanic is an auto repair specialist that comes to you! Is your vehicle inoperable and in need of repairs but you can't afford it or do not want to pay exorbitant tow fees and garage prices? Call a mobile mechanic. Did your car break down on the freeway in the middle of rush hour or on a backroad with a car full of kids? Your local mobile mechanic can come to your rescue. Mobile mechanics travel to where their customers are to perform needed car, truck, and RV repair work.
Will A Mobile Mechanic Go to Any Location?
Most mobile mechanics have a local area that they service. Smaller mobile mechanic operations might be limited to a 30-40 mile radius while larger operations with multiple trucks might be able to serve a larger area. Always check with your local mobile mechanic to determine their service area limits.
MechaMedix, a mobile mechanic in Bakersfield, CA operates within a 50-mile radius of Bakersville, CA, and serves the surrounding communities of Oildale, Wasco, Shafter, Lebec, Una, Saco, Tejon, Frazier Park.
Our trucks are fully equipped with tools, parts, and everything we need to get your vehicle running and get you back n the road again.
What Types of Services Do Mobile Mechanics Offer?
Mobile mechanics offer many of the same services that a full-service garage does without the extra overhead costs. The ASE Certified Master Mechanics at MechaMedix in Bakersfield, CA are highly skilled and can perform just about any auto, truck, and RV repair services such as :
Starters, alternators, and solenoid repair
Repair of water pumps, fuel injectors, power steering pumps, etc…
AC and radiator repair
Shocks + Struts + Suspension
Brake Pad Rotors, Shoes
Electrical Issues
Tune-Ups
Diagnostics + Preventative Maintenance
Pre Purchase Inspections
Air Filters, Gaskets, + Hoses
Timing Belts + Chains
MechaMedix also offers 24-hour roadside assistance in Bakersfield, CA, and the surrounding areas. Whether you get a flat, lock yourself out of your car, or just space on re-fueling during your busy schedule, MechaMedix will come to your rescue with 24-hour roadside assistance.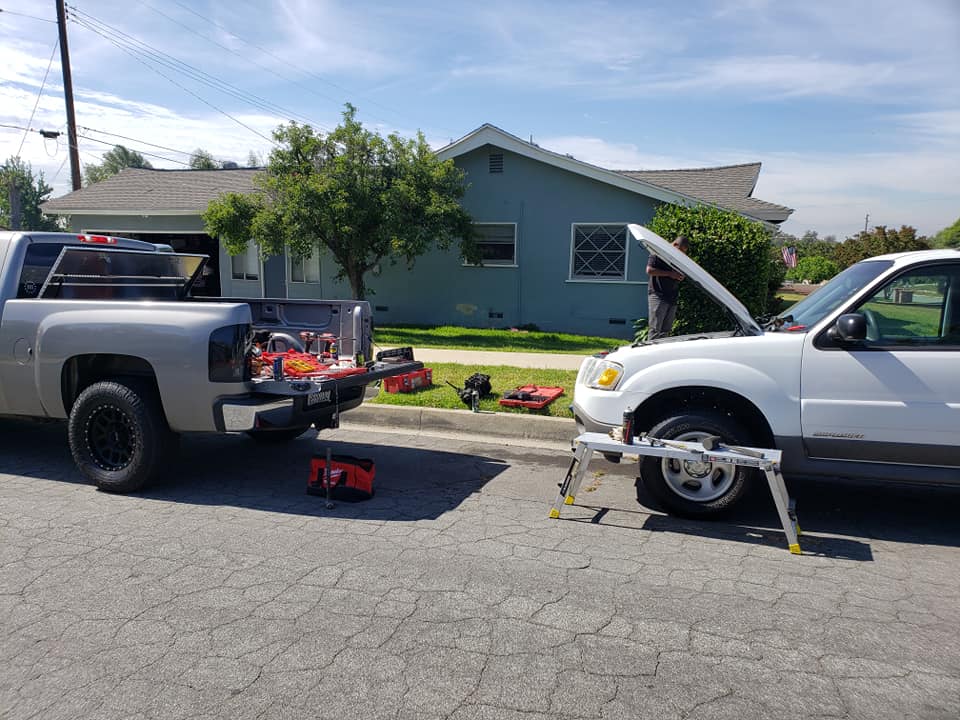 What Can I Expect When I Call a Mobile Mechanic?
Working with the ASE Certified traveling mechanics at MechaMedix, you can expect courteous, professional service and a level of knowledge that surpasses our competitors. We are Master Mechanics with generations of experience in all types of vehicles allowing us to make the needed repair quickly and efficiently.
When you call your mobile mechanic, please provide as much information as possible such as the year, make and model of your vehicle and the symptoms it is exhibiting such as unusual noises, fluid leaks, or any other anomalies you have observed. This will give our mechanic a starting point to troubleshoot and resolve your car, truck, or RV repair problem and ensure they have the correct parts and tools on hand to complete the job.
Once we get an idea of what your needs are, we will formulate an estimate and schedule a time to come to you to complete the repairs. Our fully equipped company truck will travel to your location and complete the repair work. We have all the parts we need to get your vehicle up and running. Once the work is completed, we will review with you the work that was performed and present you with an invoice. Payment should be made on the spot and a receipt will be provided. Now, you are back on the road and free to get on with your daily routine.
Can I Trust a Mobile Mechanic?
With every purchase or service decision you make, you should definitely do your research. In our case, our reviews speak for themselves. Our mobile mechanics work quickly and efficiently. MechaMedix is CONSISTENTLY rated 5 stars by our customers. Check out our stellar reviews for yourself and consider MechaMedix for your next auto, truck, and RV repair needs.
Affordable Mobile Mechanic in Bakersfield, CA
SKIP THE SHOP!
Choose MechaMedix for your next car, truck or RV repair need.
We offer 10% OFF for new customers.