Vehicles are a necessity for keeping up with today's fast-paced world and are a significant aspect of the life of an individual. The rate of car ownership among US households has remained over 90% for the past decade and California is the state with the highest rate of car ownership in the nation. According to Statista, almost 14.8 million Californians own vehicles.
We spend many hours in our cars, trucks, and vans and rely on them to get us where we need to go quickly and safely so vehicles today are an investment that requires upkeep and maintenance to perform at their best. MechaMedix provides ASE Certified mechanics that travel to you to perform auto repair and maintenance in Bakersfield, CA, and communities within a 50-mile radius.
Why Choose a Traveling Auto Repair Professional?
Getting your car, truck, or van to the repair shop for routine maintenance can be difficult in today's hectic world. However, neglecting regular auto maintenance could lead to frequent problems and can result in the need for auto repairs. Skip the inconvenience of being without a vehicle for days or even weeks while you wait for costly repairs to be completed at the garage or dealership. Our traveling auto repair mechanic comes to you for your auto repair and maintenance needs. Call MechaMedix and we will send an ASE Certified technician to your location to complete any needed maintenance or auto repair in Bakersfield and communities within a 50-mile radius
Call for car maintenance and auto repair in Bakersfield, CA, and surrounding cities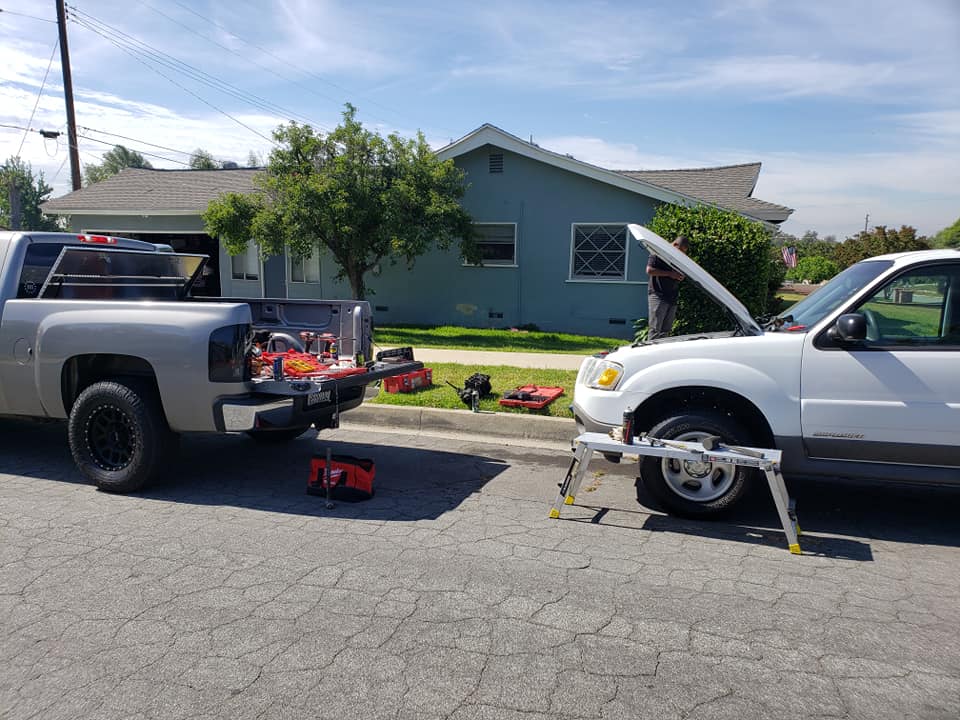 Bakersfield Auto Repair That Comes to You
When you call MechaMedix you will speak to an ASE certified technician who will make arrangements to come repair or perform maintenance on your vehicle. Your vehicle stays where it is. We arrive with a repair truck outfitted with tools, parts, and everything we need to get your vehicle tuned up, repaired, and running at its best so you can get you back to what's most important – your life.
Our mechanics are quick, efficient reliable, and honest. We are generational mechanics and treat each and every customer with the respect we would give our own family.
Reliable 24 HR Auto Repair and Roadside Assistance
The chance of your vehicle breaking down without a repair shop nearby is inevitable. In such a scenario, MechaMedix can assist with our 24-hour roadside assistant and auto repair services in Bakersfield and surrounding cities.
We come to you no matter if you're broken down on the 405 at rush hour, facing an auto repair need in the grocery store parking, or broke down on your way to the mountains or the beach. We service a 50-mile radius and have a mechanic near you on call. CALL:661-436-3932 Give our mechanic your location and will arrive at the desired location and carry on with the necessary repair work.
Honest, 5 Star Reviewed Auto Repair in Bakersfield
MechaMedix is locally owned and operated by a family of generational mechanics. As native Californians, we take the safety of your family as seriously as our own. We are exceptionally well-reviewed and maintain a 5-Star rating. We go the extra mile to not only repair your vehicle but ensure that your needs are taken care of in a respectful and safe environment.
Save time and money on expensive tow bills and costly auto repair shops by calling a traveling auto repair mechanic.
MechaMedix offers a range of auto repair and maintenance services in Bakersfield, CA.
Diagnostics + Preventative Maintenance
Electrical Issues
Tune-Ups
Cooling Systems and Radiator Repair
Shocks + Struts + Suspension
Starter/ Altenator / Solenoids
Water Pump + Fuel Injectors
Brake Pad Rotors, Shoes
Air Filters, Gaskets, + Hoses
Timing Belts + Chains
You can trust MechaMedix for affordable and honest car maintenance and auto repair in Bakersfield, CA.