Mobile Mechanic in Anaheim, CA
Our traveling mechanics come to your location to perform needed car, truck and RV repairs.
Ditch Your Regular Mechanic!
MechaMedix travels to you for your car, truck, and RV repair needs in Orange County.
Anaheim's warm sunny year-round weather and our local attractions like The Disney Resort, our beloved Angels Baseball Team or the mighty Anaheim Ducks Hockey Team, you are sure to be out and about exploring all the great places and activities the second largest city in Orange County has to offer.
The last thing you need is for your vehicle or recreational vehicle to break down and spoil your fun!
Luckily, MechaMedix mobile mechanic in Anaheim is available 24/7 to help you with needed repairs and emergency roadside assistance.
If you find your self out of gas, with a flat tire or a car that won't run, call 714-455-9744 and we will send a truck out to your location. Our ASE Certified mechnics will get you back on the road quickly, safely and affordably so you can get back to enjoying all that Southern California has to offer. 
Honest, Reliable, Auto Mechanic
Consistently rated 5-stars by our customers
Our brakes went out on the way to Disneyland… on a Sunday… just before the Grapevine. Lots of luck on our side for that reason alone. We did a quick search and found MechaMedix. We put all our eggs in their basket and won the lotto. Great service. Super friendly and they did a great job. MechaMedix staff drove all over Bakersfield getting parts for our truck. I'm super thankful for their time and business. Highly recommend.
24 Hour Mobile Mechanic Anaheim, CA
Roadside assistance, car, truck, van and RV repair at your location.
Preventative Maintenance
Keep your vehicle running at optimum performance with our on-site oil changes, tune-ups, fluid checks, filter, belts, and hose inspections.
Major Engine Repair
We can handle even the biggest auto repair jobs quickly and conveniently. Need a new transmission? No problem, the Master Mechanics at MechaMedix will get the job done.
Starters + Alternators
Hearing that dreaded clicking sound, or no sound at all when turning your ignition key? Battery not holding a charge? No problemo. We can get that taken care of quickly and efficiently.
 
Meet Your Mobile Mechanic
Our mobile mechanics in Anaheim, CA are here for all your emergency roadside needs.
Shayne Smith is a highly-rated Master Mechanic with 15 years of experience in automotive repair and maintenance. He will travel to your location, whether it's your home, office, a gas station, or even the side of the road, and get you going again quickly, professionally, and as affordable as possible.
Trustworthy and reliable, you can't go wrong with MechaMedix now serving Riverside and surrounding communities.
Diagnostics + Preventative Maintenance
Electrical Issues
Tune-Ups
Cooling Systems and Radiator Repair
Shocks + Struts + Suspension
Starter/ Altenator / Solenoids
Water Pump + Fuel Injectors
Brake Pad Rotors, Shoes
Air Filters, Gaskets, + Hoses
Timing Belts + Chains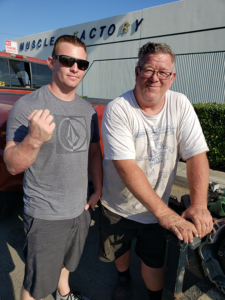 Shayne Smith ASE Certified, generational mechanic and owner of MechaMedix.
Mobile Mechanics You Can Trust!
Your safety and comfort are of the utmost importance to us here at MechaMedix. We are a family-owned and operated business. We treat our customers as we would treat our own family. You never have to worry about safety. Our certified master mechanics are thoroughly screened for your peace of mind.
Our Anaheim Service Areas
Santa Ana | Fullerton | Stanton | Buena Park | Westminster and surrounding communities.
Our 24-hour roadside assistance phone number
We are headquartered in Bakersfield, CA and offer mobile mechanic, auto repair, diesel truck, trailer, and heavy equipment repair along with 24-hour roadside assistance services in multiple locations across California.

Schedule a Mobile Auto or Diesel Repair Appointment
Our certified mobile mechanic will come to your location, perform any necessary work, and get you up and running in no time!